Premium seal for Berlin MBA
The links between academic excellence and practice, internationality and the Careers & Alumni Service of the Berlin MBA exceed quality standards.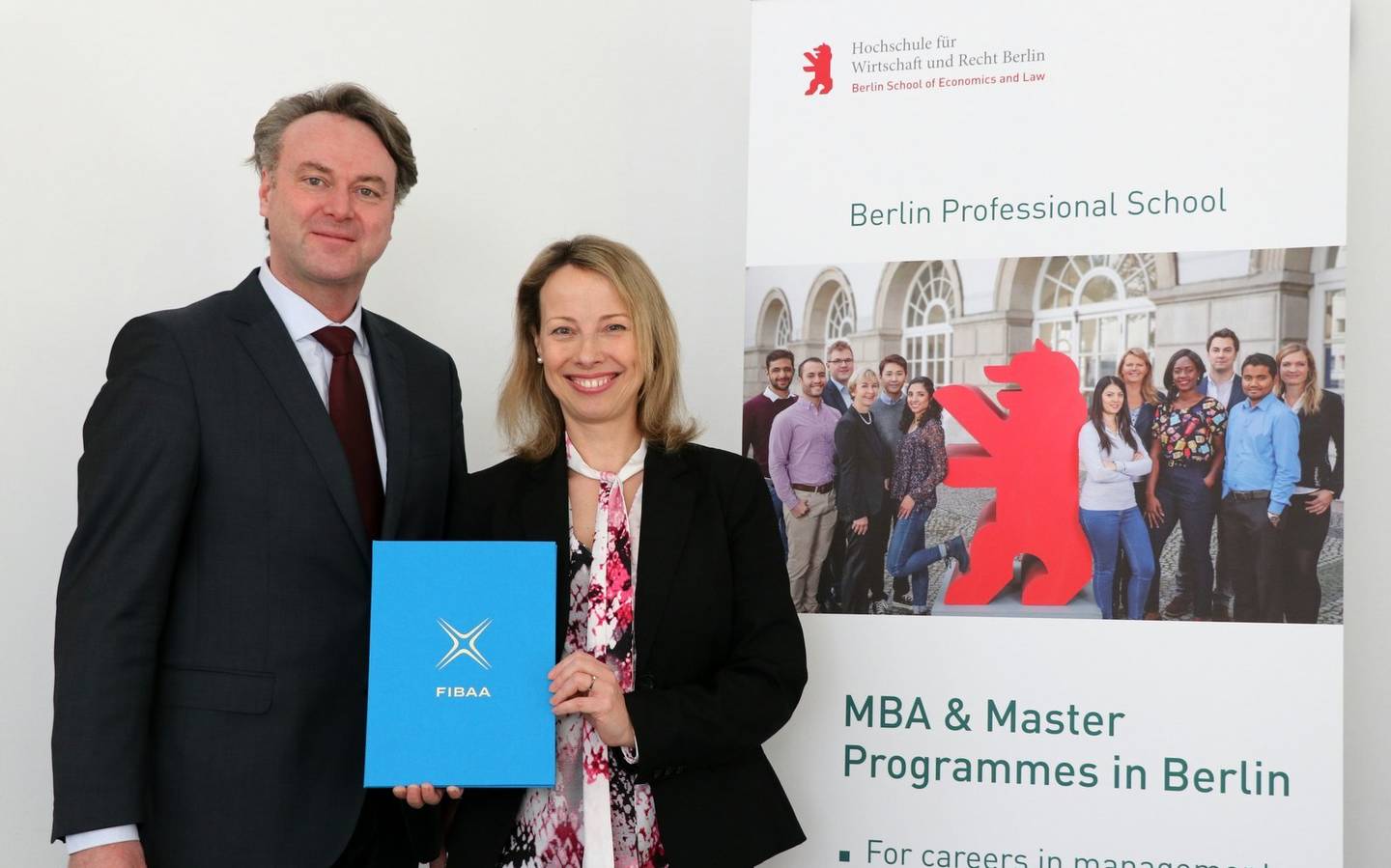 Caption: The Director of the Berlin Professional School, Prof Matthias Tomenendal, and Director of the Berlin Part-Time MBA Programme, Prof Solveig Reißig-Thust, accept the FIBAA premium seal certificate.
The accreditation agency, Foundation for International Business Administration Accreditation (FIBAA), has awarded the Berlin MBA its premium seal. In addition to the Berlin Professional School at HWR Berlin, only ten other German universities currently hold an FIBBA premium seal. The combination of FIBBA premium seal and accreditation by the Association of MBAs (AMBA) confirms the exceptional international quality of the Berlin MBA.
"We're delighted and proud that FIBBA has authenticated the excellence of our MBA programme by awarding us its premium seal," says Prof Matthias Tomenendal, Director of the Berlin Professional School (BPS) at HWR Berlin. "A combination of high academic quality and practical relevance characterises the Berlin MBA. Our many years of experience, as well as close collaboration with international companies and partners, allow us to provide aspiring managers with viable solutions to real-life problems with academic standards," according to Tomenendal.
Some areas of the management development programme exceeded FIBBA quality standards. Its internationality, i.e. the heterogenous mix of students with several years of professional experience from all nationalities, sectors and functional levels, in particular, was singled out. The integration of theory and practice, as well as the individually tailored leadership seminars, also stand out, as does the comprehensive Careers & Alumni Service with its vibrant network.
On 6 March, prospective students will have the opportunity to seek information and advice about the Berlin MBA in person at the MBA open evening at the Schöneberg campus. The award-winning Berlin MBA is available as both a full and part-time programme.