Degree

Master of Business Administration (MBA)

Type of Study

Standard period of study

Programme start

Credits (ECTS)

Language of instruction

Number of places

Application requirements

completed undergraduate degree, a minimum of three years of relevant work experience, very good knowledge of English, GMAT is strongly recommended for Non-EU applicants

Application period

Tuition fees

Accredited by

HWR Campus
Berlin Full-Time MBA: One management programme – numerous career opportunities
The Berlin MBA is one of Germany's top MBA programmes for young international professionals, taught in Europe's main startup hub and embedded into a dynamic business environment. Are you an ambitious leader, dedicated to developing your business and leadership skills? Would you like to integrate into a vibrant community? Then this full-time MBA in Berlin, Germany is for you. ´
This English MBA programme at the Berlin Professional School (BPS) offers you:
Profound and practical knowledge of all management disciplines as well as the cross-disciplinary topics of digitalization, sustainability and consulting
The option to focus on your individual interests via elective modules. You will be empowered to pursue your desired career goals
A dedicated Career Service and a strong BPS Community
A prestigious degree from an AMBA-accredited university
Programme Structure
The Berlin Full-Time MBA programme is taught through English, the lingua franca of the business world. It begins in September, running full-time over 15 months. The programme has a modular structure and is divided into three intensive phases:
Phase 1: In core modules, you acquire fundamental management, consulting and leadership skills. You are introduced to the German and Berliner business environment and work on practical business challenges.
Phase 2: Capstone courses integrate the acquired know-how. Electives enable you to specialise in up-to-date business topics like Digital Business & Technology Management, Sustainable Finance or Entrepreneurship and Innovation
Phase 3: You will undertake a master thesis as a Company Project with a clear-cut application, polishing your expertise
Throughout the programme you will develop your leadership personality and your career options.
Programme Content
The Berlin MBA immerses you in theory and practice. The key modules let you systematically tackle all areas within a company, as well as its external interfaces. You will learn to think and act flexibly, like a real entrepreneur or consultant, focusing on practical solutions. Our lecturers, business partners and your peers will push you to take on dynamic challenges, as well as teach you agility in the digital age.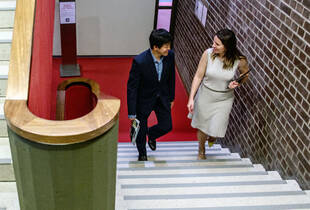 Developing your Leadership Personality
Personal, communication and social skills are enhanced during the leadership personality seminars. Depending on your needs and interests, you can choose from a range of different professionally-relevant methodological and social skills, e.g. presentation techniques, teambuilding, time and self-management, negotiating across cultures and assertiveness.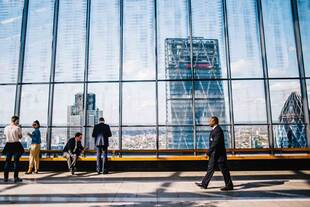 Module: Doing Business in Germany
In this module, which runs during the first two phases of studies, MBA students get acquainted with the German business environment. They learn about German industry structure and visit entrepreneurial ecosystems and startups in Berlin and other aras. Students as well as companies benefit from networking and collaborating on small, common initiatives. Our cooperation partners include Berlin Partner GmbH, the Chamber of Commerce and Werner-von-Siemens Centre for Industry and Science.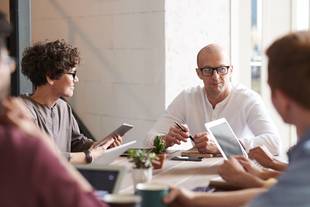 Topics of our time
We put emphasis on the decisive topics of today's business world: digitalization, sustainable management, entrepreneurship and innovation. In times of New Work we want you to become agile entrepreneurs, professional consultants and responsible leaders.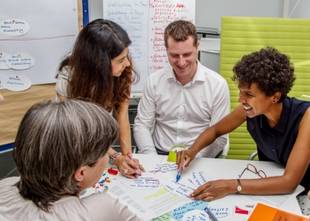 Practice-oriented studies
The interactive, activity-based teaching of the Berlin MBA consciously incorporates the diverse professional experience of the students. Our lecturers have rich experience and are proven experts in their fields. Corporate and entrepreneurial projects, case studies and use cases, applied project and group work, business simulations plus presentations from leaders of select enterprises all form integral course components. The perfect combination of theory and practice.
Getting an MBA from the BPS was one the best professional and personal decisions that I have made. The class was very diverse and it was great for learning about new cultures and how business is conducted throughout the world.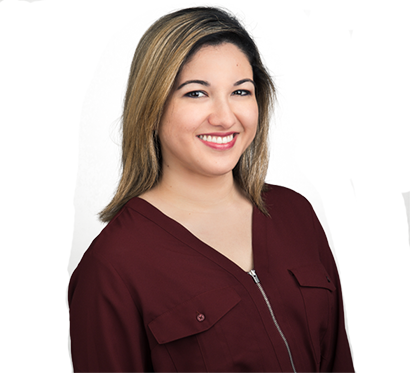 completed university degree
At least three years' professional experience following the primary university degree
GMAT is strongly recommended for Non-EU applicants
very good knowledge of English (minimum scores - TOEFL: cbt 213 points or ibt 79 points; IELTS: 6.5 points)
Each year, applications are accepted from 1 December. We recommend applying early as admissions are made on a rolling basis depending on suitability. 25 places are assigned annually for the programme start in September.
If you meet the entry requirements and are interested in applying for the Berlin Full-Time MBA, please use our online application tool:
You will be asked to upload the following documents during the application process:
Letter of motivation, including professional goals
Curriculum vitae, preferably in "europass"
Copy of passport
Certification of eligibility for university education (e.g. Abitur/A-levels)
Certification of university degree: BA / MA / Diploma
Proof of work experience (e.g. job confirmation)
Certificates of English language competence (e.g. TOEFL certificates)
Please submit formally certified copies only.
Certificates and other documents which are not in English nor in German must be translated into one of these languages. Translations must be formally certified and attached to the documents.
If you are applying from a non-European country, you will need to allow for the time to have your visa processed (approx. 4-6 months).
An investment in your future
The tuition fees for the Berlin Full-Time MBA is 19.800 Euro. This include:
All study costs, from matriculation to modules and teaching materials, right through to exam charges
Leadership & Management Skills Seminare
Excursions
Welcome Service for international students
Career Service and Events
Tuition fee can be paid in installments, which you can view in the schedule of fees. We would be happy to advise you personally!
Download the schedule of fees here
As the programme has been approved as a course of further education in accordance of the Berlin Law of Higher Education, tuition fees are normally tax deductible. The degree programme is also recognised as vocational training which usually allows some entitlement to training leave.
Over 4 900 alumni from more than 30 nations, and another 200 students joining annually. That is the worldwide Berlin Professional School alumni network, consisting of specialists from infinite industries and companies. As part of this international community, you will gain access to BPS alumni groups on XING and LinkedIn, with job offers and networking possibilities.
You will also automatically receive invitations to BPS alumni events including our homecoming event or the X-Mas Punch.
You have studied at the Berlin Professional School or at the IMB Institute of Management or the Institute of Distance Learning at HWR Berlin? Then you can register for our Alumni Network here.
On graduating from BPS, you're drawing a new hand of cards for your career. Yet we understand that questions about reorientation, career strategies and development are almost as important as the study programme itself.
We want to support you in identifying your career goals and efficiently pursuing them by providing you personal, confidential advice. Through one-to-one conversations, we will work together to develop measures to guide you in practically implementing your goals, both during your studies and beyond.
We teach you how to structure and put together professional applications, both in a domestic and international context. You will be given individual feedback on the application documents submitted beforehand and learn how to improve them.
We will also discuss objectives, structure and typical questions in interviews and you will practice in plenary assemblies or small groups.
Your CV is the core of your application. The Career Service actively supports you through application processes with a complimentary CV check. Together, we will make your strengths and experience truly stand out.
During Graduate Talks yesterday's graduates show today's students the opportunities they could have tomorrow.
Through these talks, you will get to know companies from different industries and receive first-hand tips on how to successfully launch your career in Germany.
The participating graduates have either found their feet in the vibrant Berlin start-up scene or in large companies. Montredo, idealo, Blacklane, Delivery Hero, Bombardier, Zalando and Vodafone are among those represented.
By virtue of a varied programme of company visits, you will gain insight into the everyday management life during your studies. Not only do company visits form an integral part of the course, they also provide the opportunity to gain a first-hand impression of a company. You will meet company representatives in person.
Have you ever imagined that an employer would want to introduce themselves to you? Even if it's not something often verbalised, company presentations like to demonstrate how attractive they are as an employer to businesses via projects and presentations.
Studying at the BPS makes it crystal clear that you want more. Graduating proves that you can do more. This combination of desire and expertise will make you sought-after by any company. And now, you can see how interesting our partner companies are.
Studying single modules
Not decided yet on an entire course of study? We offer you the possibility to attend chosen modules individually. Credits acquired may be recognised later for the MBA programme.
We will be offering the following seminars:
You are interested in the degree programme - download further information here:
The study and examination regulations of the programme are available in our Download Center