MBA Students of Porto Business School in Berlin
Successful start of the cooperation between Berlin Professional School and Porto Business School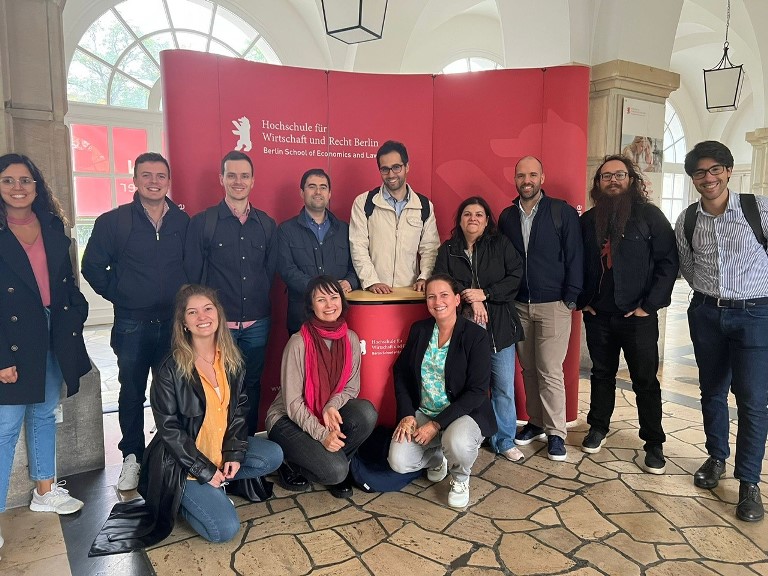 [Translate to English:]
At the end of last year, the Berlin Professional School and the Porto Business School agreed on a cooperation that enables the exchange of knowledge and experience of students from both universities.
Now the kick-off of this cooperation took place. A group of MBA students and representatives of the Porto Business School's corporate partners came to Berlin for an "International Week".
Together with students from the Berlin MBA programme at the Berlin Professional School, they took part in an exciting business game as part of the module "Transformation Management and Change". This intensive workshop enabled them, on the one hand, to put theoretical knowledge into practice and, on the other hand, to jointly master complex entrepreneurial challenges.
In addition to the academic exchange, the programme also included impressive company visits. The group visited Siemens Energy and gained exclusive insights into the latest developments and technologies. Equally impressive was the visit to Swobbee, an innovative company in the field of electromobility.
The "International Week" in Berlin was characterized by a lively exchange of knowledge and experiences between the students. The diverse insights and impulses not only broadened the understanding of entrepreneurial challenges, but also strengthened the intercultural competence of the participants.
Overall, the week was a great success and an important step in the cooperation between Berlin Professional School and Porto Business School. This cooperation promises many more inspiring encounters and educational experiences for the students of both institutions in the future.